Sea Sponge Painting
Sea Sponge painting is a centuries-old technique that adds a more textured look to a surface. One of the easiest methods to learn, sponge painting is an inexpensive way to add a customized look to a room, and also serves to hide any flaws or repairs. Sea sponge painting, or "Sponging", creates the appearance of depth and texture that can be, depending on the technique, either subtle or pronounced. This faux painting technique creates the illusion of dimension and old-world feel by adding extra layers of color. And it is the porous nature of the surface of a natural sea sponge that creates this classic effect.
Sea Sponge Painting Techniques
There are two different types of sponge painting techniques, sponging on and sponging off. The sponging on technique is the application of glaze to the walls using a sea sponge. While the sponging off technique uses a sea sponge to remove glaze from the wall that has been applied with a roller. The sponging on technique creates a more porous or mottled appearance. And the sponging off technique results in a more subtlety textured surface.
Because the sponge painting method uses a minimum of two different colors (i.e. a base coat and an accent color) it creates the illusion of depth and any defects in the surface virtually disappear. Professional designers and decorators, as well as DIY homeowners, often use this easy sponge-painting technique to create additional visual interest or a classic Old-World feel in a room. Practice this technique with your color choices on a piece of board before applying it to the walls, to perfect this technique.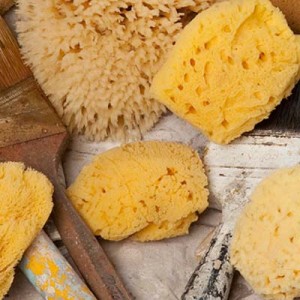 Sea Sponge Painting Benefits
Sponge painting techniques have many benefits including:
Sponge painting is an inexpensive technique that anyone can quickly learn that does not require expensive tools or materials
Sponge painting is a faux technique that can be done relatively quickly
Sponging creates the illusion of depth and texture on any flat surface that is, or can be, painted
It is an extremely versatile technique that can create a wide variety of effects and can be adapted to many different decorating styles, limited only by the painters imagination
Sponge painting is a great way to hide surface flaws, repairs, or even dirt in high-traffic areas like kids' rooms hallways and mud rooms
Using a Sea Sponge for Faux Painting
The first step in the sponging on faux painting process is applying the base color. Once the base color is completely dry, a damp sea sponge should be dipped in the accent color, but should not be dunked completely. The sponge should only be dipped on one side so that the edges have all been covered with paint.
The porous pattern of this faux technique is achieved by the dry spots and pores of the sponge that do not transfer paint to the surface. Once the sponge is coated, gently dab the sponge on the wall, pressing lightly. The paint should be dabbed on in a random pattern and spaced apart. The sponge will need to be recoated periodically, just like a paintbrush or roller. Because the first dab after recoating will transfer more paint than the last, these should be spread out over a large enough area that a regular patter is not created. Dab the paint closer to create a denser look of spread apart further to soften. Take care not to apply too much paint or dab too close together or the faux effect will disappear into a more solid look.
Accent colors tend to dry fairly quickly, so more than one accent coat or color can be applied after a short duration. However, ensure that the last coat applied is completely dry before applying the next or the accent coat will smear and ruin the affect. It is also important to leave enough space between dabs of one accent color, if multiple colors are to be applied. With just a bit of practice, this technique is easy, quick and creates an effect that is limited only by the painter's imagination.