Sea Sponges for Kitchen Use
Sea sponges are well known for their excellent absorption, soft texture, and durability. Because they produce a thick, rich, creamy lather sea sponges are ideal for kitchen use.
Sea Sponges for Delicate Dishware
The natural porous structure of a sea sponge creates a large amount of nap, for a deeper clean and a softer touch. So not only are they a great option for washing everyday dishes, glasses, appliances and counter-tops, they are also the best choice for cleaning more delicate items such as fine china, crystal, and non-stick coatings that can be scratched by standard kitchen sponges.
Benefits of Using a Sea Sponge in the Kitchen
And unlike artificial sponges, sea sponges naturally inhibit the growth of bacteria so, as long as they are thoroughly rinsed, will not develop the unpleasant odor normally associated with kitchen sponges. They are also 100% biodegradable, do not contain chemicals (like most kitchen sponges), are environmentally safe, and very durable and economical.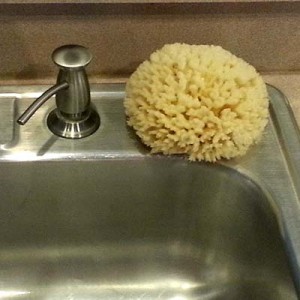 Natural sponges make hand washing glassware quick and easy because they can be compressed and pushed into glasses where other products or hands and dishrags are difficult to reach. Sea sponges are also great for cleaning bowls, and getting into the corners of cookware and dishes. Simply drop a small amount of soap onto a wetted sponge vigorously massage into a thick, rich, foamy lather.
About our Sea Sponges
Sponges are native to the coastal waters of Florida and have been used by different cultures around the world for more than 2,000 years. We process our sea sponges for maximum durability, strength and water absorption. Our Sponges, or sponge "cuts", have been cut in two in order to increase the working surface area and provide additional value. These are not whole sponges, or "form" sponges, intended for decoration. Natural sponges are a sustainably harvested, quickly renewable natural resource and as with any natural product will vary in color, size and shape.