Polyester Sponges
Polyester sponges were invented as a result of the discovery of polyester in 1937 by Otto Bayer. Polyester sponge material was originally adopted by the mop industry, which needed a cost effective, absorbent, strong, durable, material that was resistant to harsher cleaning chemicals, oil, and grease. The airy foam, which is similar in structure to natural sea sponges, but more chemically resistant, was then made into utility and kitchen sponges.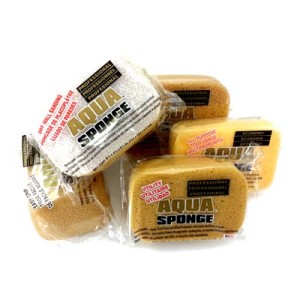 Polyester sponges remain soft even when dry, are resistant to solvents and chemicals, float, and can be sterilized by boiling. Polyester sponges are elastic, light, economical and durable. And like sea sponges, are extremely soft and come in a variety of shapes and sizes for different types of jobs.
Polyester Sponge Uses
The honeycomb structure of polyester sponges make them super-absorbent ideal for professionals for masonry, drywall, wall papering, tile and grout work, painting and general cleanup. Because of its chemical resistance, flexibility, elasticity and utility, this sponge can be used for all types of masonry, painting, texturing, as well as general cleaning projects. These characteristics also make this type of sponge the obvious choice for all general home, auto and marine applications.
How Polyester Sponges are Made
As a chemical term, Polyester can be broken into poly (meaning many), and ester, (referring to a basic organic chemical compound). A synthetic compound derived from petroleum, water and coal, Polyester was developed in a 20th-century laboratory. Polyester is formed from the chemical reaction of alcohol and an acid where, two or more molecules combine into a larger molecule with a structure that repeats throughout its length.
Ethylene, the primary ingredient used to manufacture polyester, is derived from petroleum. In this process, ethylene is the polymer used in a polymerization process to create the finished polyester. These long chain molecules are extremely strong and stable.