Sea Sponges for Baby Care
Using sea sponges for baby care is the best and safest way to gently and safely wash infants and toddlers. Wool sea sponges are gentle and caressing on baby's delicate skin. They are soft (when wet), hypo-allergenic, very absorbent, and produce a rich soothing lather. A sponge that is overly soft or insubstantial may require too much pressure to clean, while one that is too stiff or coarse may irritate a baby's fragile skin. Natural Wool sea sponges are a perfect balance. They are soft enough to avoid irritation, while providing the texture and nap to thoroughly clean baby's skin. Wool sea sponges are a natural healthy way to gently and effectively clean and care for your baby's skin.
Benefits of Using Natural Sea Sponges for Baby Care
Wool sponges are exceptional soft, highly absorbent and have a very low PH, making them ideal for delicate sensitive, young skin. Natural sponges are soothing and soft on baby's skin, natural hypo-allergenic and toxin-free. Synthetic sponges, which are often made from, or with, petroleum bi-products, are routinely treated with toxic substances. Organic sea sponges contain natural enzymes that inhibit the growth of mold, mildew, and bacteria, making them a toxin-free and hypo-allergenic alternative for baby care. Using a Wool sea sponge with a gentile natural soap is an ideal way to clean the body naturally, without chemicals or additives.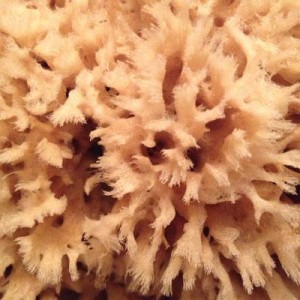 About Sea Sponges
Sea sponges, which are are native to the coastal waters of Florida, and have been used by cultures all over the world for 2,000 years or more. Natural sponges are a sustainably harvested, quickly renewable natural resource and as with any natural product will vary in color, size and shape. Sea sponges should always be wetted before use, as they can be stiff and coarse when dry. Sea sponges should be thoroughly rinsed after each use and left to air dry.