Sea Sponges for Bath and Body
Sea sponges, with their exceptionally soft texture, have been used for bath and body use for at least the last 2000 years. Natural sponges create a rich luxurious lather, are highly absorbent and suitable for the most sensitive skin. And because sea sponges are so durable, they are ideal for daily shower, bath and spa use. Sea sponges should always be wetted before use, as they are stiff and often rough when dry.
Benefits of Using Sea Sponges for Bath and Spa
Sea sponges contain enzymes that naturally inhibit the growth of bacteria, mold and mildew. Synthetic sponges, unless they are chemically treated, collect bacteria and quickly begin to smell. Natural sponges are naturally toxin-free, hypo-allergenic, softer and more durable. And because they are resistant to abrasion, last longer than synthetics. Natural sea sponges soak up and hold more water, without dripping, and are self-cleaning. The intricate system of canals that make up the structure of a sea sponge allow them to be washed out more quickly and easily, and, in combination with a sponges natural enzymes, will keep them from retaining odors.
Wool Sea Sponges for Bath and Body Use
Wool sea sponges (or lamb's wool), are the softest, most absorbent and durable natural sponge available, and are eco-friendly. They are called "Wool" sponges because of their similarities in texture to the soft wool coat of a lamb. Its soft porous texture creates a rich luxurious lather and gently cleans while removing dead skin cells. Using a Wool sponge with a natural soap, body wash or scrub is an ideal way to clean the body naturally, without chemicals or additives. Also soft and gentle enough for bathing infants, Wool sponges are soft and gentle enough to use regularly on the face. Natural sea sponges are great for daily bath or shower and with normal use and proper care, can last for years.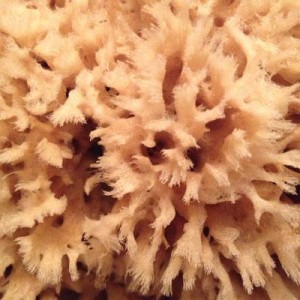 Yellow Sponges for Bath and Body Use
Yellow sea sponges are not as soft and silky as Wool, and are also slightly stiffer. While still soft, Yellow sponges are a better choice for gently exfoliating. Yellow sea sponges are the best tool for gently removing dead skin, dirt and oils. It is also a great way to remove the pollution and debris that accumulates on the skin over the course of time. Like all natural sponges, Yellow sponges are hypoallergenic and, unlike most synthetics, contain no chemicals or toxic ingredients. The stiffness of Yellow sponges make them the best choice for natural exfoliation.
Sea Sponges are Environmentally Friendly
Choosing the right sponge for the right job is essential, and having an environmentally-friendly product available makes all the difference. That's why we offer these different types of high quality natural sponges. Sea sponges are a sustainably harvested, quickly renewable natural resource that is 100% biodegradable. They contain natural enzymes that naturally inhibit the growth of bacteria, mold, mildew and the associated odors. Because sea sponges are soft, absorbent, durable, non-toxic and hypo-allergenic, they are the best solution for natural skin care.