Acme Sponge Company History
The Acme Sponge Company offers a variety of natural sea sponge, synthetic sponges and related products.  It is headquartered in Tarpon Springs, Florida, which is arguably the sponge diving center of the United States. We pride ourselves on the quality of the materials we use and the products we offer; "the finest products from the finest materials in the world."
Acme Sponge Company
Acme Sponge company traces its roots back four generations to sea sponge merchants and divers in Greece. But Acme is not just a sponge company anymore.  Over the past 70+ years it has grown into a diverse multi-national company with its headquarters in Florida. Acme now offers a wide variety of different types of products including, natural sponges, synthetic sponges, natural loofahs products, bath and body brushes, and assorted cleaning products and accessories.
Acme Sponge Company Founder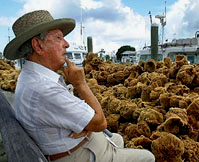 ACME Sponge Company was founded in 1938 by Michael G. Cantonis. Borrowing $1000 from a friend, he went to New York at age 21 and began importing natural sponges from the Mediterranean.  The company was moved to Chicago in 1947 to be closer to its customer base. In the 1950s imported natural chamois were added to the product mix of natural sponges and synthetic sponges. In 1959 the company began planning a tannery to tan chamois leather and this tannery was finally opened in 1962. And in 1977 all or Acme's facilities were consolidated and moved to Tarpon Springs, Florida.
Acme Sponge and Chamois Worldwide Operations
Acme established a New Zealand facility in 1994 specifically to facilitate the procurement of premium New Zealand sheep pelts. New Zealand supplies the highest quality sheepskins available for chamois manufacture, and being the only producer with a facility in the islands is a big advantage. Acme constantly monitors the raw material market to insure uninterrupted flow of the highest quality materials.
In 2005 Acme consolidated its tanning operations in Izmir, Turkey to further improve efficiencies, while continuing to maintain its offices in New Zealand to insure the steady flow of the highest quality raw material.  In January 2012 Acme moved its headquarters facility to the new Tarpon Springs campus.
Over a 79 year history, Acme Sponge and Chamois evolved to become the largest distributor of both natural chamois leather and natural sponges in the United States, and largest chamois tanner in the world.
The Acme Sponge Company
In 2017, Acme Sponge and Chamois returned to its roots with the sale of the Chamois line to Hopkins Manufacturing. The company also returned to its original name, the Acme Sponge Company.  The Acme Chamois Company remains headquartered in Tarpon Springs, Fl. and the largest distributor of natural sea sponges in the world.