Acme The Natural Brand
Our "The Natural" brand sponges are sourced from all over the world, the bulk of which are purchased directly from the fisherman who harvest them.  In order to insure the quality of our sponges, no middlemen are involved; the sponges are purchased at the source by our own employees.  The sponges, which are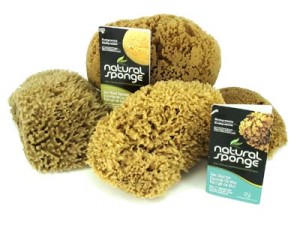 initially sorted for quality at the point of purchase, are then sorted again at every stage of processing; and before final packaging, where our team rejects any sponge that does not adhere to our rigid standards. Our natural sponge team boasts over 160 years of experience and skill, resulting in the highest quality natural sea sponges available.
Types of The Natural brand Sea Sponges
We offer several different types of natural sea sponges under "The Natural" brand including "Wool", "Yellow" and "Grass".  "Wool" (or "Lamb's Wool") is one of the softest types of sponge available and is often used for washing more delicate surfaces, or where it is critical that dirt and grit be pulled away, without scratching or marring.  "Yellow" Sponges are somewhat stiffer than Wool and are great for soft scrubbing or exfoliation. "Grass" sponges have finer pores than either the Wool or Yellow sponges, and are more economical.
The Natural brand Sea Sponge Uses
Our "The Natural" brand sponges are often used by car enthusiasts and exotic car owners to safely clean the vehicle without scratching or marring the finish.  Because natural sea sponges completely release the dirt and grit (pulled away from the finish and into the pores) when rinsed, they are also often preferred as a means to remove abrasive and corrosive brake dust from the tires and wheels.  In addition to automotive applications, natural sea sponges are used for bathing sensitive skin on both mothers and babies, cosmetic application and removal, hand washing delicate china and glassware, safely polishing silver and antiques, as well as wallpaper and faux finish applications, wall washing and general cleaning.